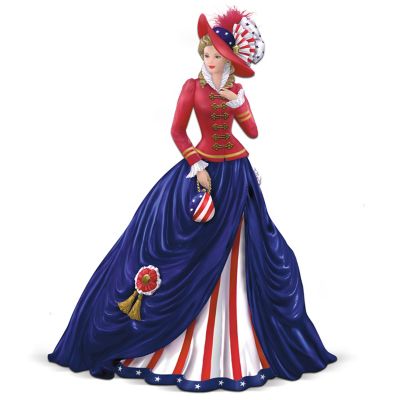 Thomas Kinkade Freedom's In Fashion Figurine Collection: Patriotic Victorian Women by The Bradford Exchange Online
What a stylish way to express the American Spirit! The exquisite Victorian patriotic ladies in this figurine collection are named for a stanza from America's national anthem and wear stunning patriotic-themed ensembles. Beginning with Issue One, O! Say Can You See, your collection continues with Issue Two, The Twilight's Last Gleaming. Soon, you will receive Issue Three, Broad Stripes And Bright Stars and additional collectible patriotic lady figurines, each a separate issue to follow.???Thomas Kinkade's magnificent artistry and the liberty we cherish as Americans are celebrated with this collection available exclusively from The Hamilton Collection. This glorious series features lovely handcrafted lady figurines attired in elegant turn-of-the-century patriotic dresses inspired by stars-and-stripes and with patriotic motifs and colors, all meticulously hand-painted. High demand is expected for this wonderful limited-edition 4th of July decor, so don't delay. Order now!
Price: $
39.99
Condition:
new
Thank you for shopping with the Lovely Exchange, the best place to find unique gift ideas.