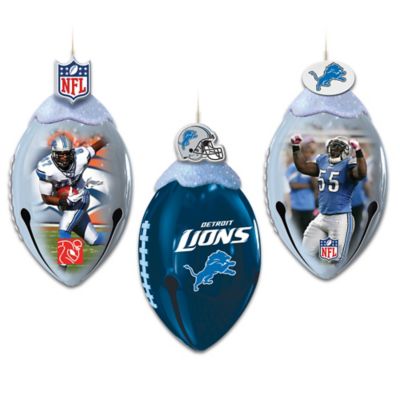 NFL Detroit Lions FootBells Christmas Ornament Collection by The Bradford Exchange Online
For fans of the Motor City's gridiron dominators, the holidays are a perfect time to ring out your support for the Lions! That's why we are proud to introduce the FootBells™ NFL Detroit Lions Christmas Ornament Collection, available in unique sets of three from The Bradford Exchange. The excitement kicks off with Issue One, Brandon Petigrew, LIONS!, and Stephen Tulloch. Soon your collection will continue with Issue Two, and additional sets of three Detroit Lions Christmas ornaments, each set a separate issue to follow.‡Officially licensed by NFL Properties, LLC and NFL PLAYERS, each set of three NFL Detroit Lions Christmas decorations in your collection is crafted from real metal into a pigskin-shaped, real working bell. Hand-painted with the signature Lions colors of blue and silver, they beam with crisp, clear images of your favorite players, logos and more. Plus, each ornament is crowned with glittering sculpted "snow" and Lions graphics and icons. This heirloom Christmas ornament collection is a great way to kick off a fan-tastic season and display your Lions pride. Order now!
Price: $
39.98
Condition:
new
Thank you for shopping with the Lovely Exchange, the best place to find unique gift ideas.