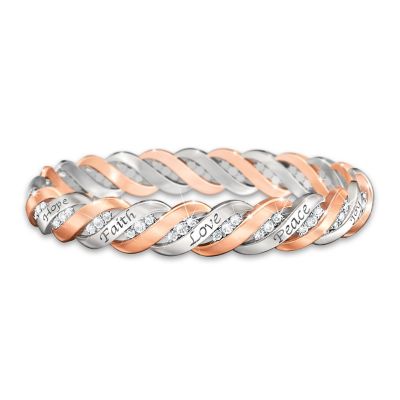 Healing Waves Copper Stretch Women's Bracelet by The Bradford Exchange Online
Beautiful and powerful, copper is thought to be a natural healer. For centuries it has been thought to ease the pain of arthritis, improve circulation and relieve fatigue. Now, you can enjoy the benefits of copper in a stylish new bracelet that sparkles with inspirational waves of tranquility: the Healing Waves Bracelet, a fine jewelry design exclusively from The Bradford Exchange. This beautiful women's stretch bracelet is exquisitely handcrafted of solid copper with 18K rose gold and sterling silver plating.The two-toned, wave-linked bracelet dazzles with genuine Swarovski® crystals and features engraved links with powerful messages of "Hope," "Faith," "Love," "Peace," "Joy," and ???Believe.??? This lovely copper jewelry design stretches and easily expands to fit most wrists. It's a gorgeous way to feel great – inside and out! Your Healing Waves Bracelet arrives in a velvet jewelry pouch and gift box, perfect for safekeeping or gift-giving. Strong demand is expected. Order now!
Price: $
79.00
Condition:
new
Thank you for shopping with the Lovely Exchange, the best place to find unique gift ideas.